Archive for 'Posts'
Our Exhaust System For The Porsche Macan Turbo Is Now Available!
Click Here For More Details!
Our Exhaust System For The Ferrari F12 Is Now Available!
Click Here For More Details!
Our Exhaust System For The LP-700 Aventador Is Available Now!
Click Here For More Details!
Our Brand New 981 Porsche Cayman and Boxster Exhaust Systems Are Now Available!
Visit Us Online At http://championmotorsport.com Or Call (800) 775-2456
Our Brand New 991 Porsche Turbo Exhaust Systems Are Now Available!
Visit Us Online At http://championmotorsport.com Or Call (800) 775-2456
The 458 Italia is Ferrari's eagerly awaited replacement for the F430. With the incredible popularity and performance capabilities of the F430, living up to it's notoriety is no easy task, so the Italia certainly has some big shoes to fill. Luckily, the 458 represents a new level of engineering and technology from the incredible team at Ferrari, so it has a few bragging points of its own. Incredible styling, aerodynamic performance suitable for a race car, and Ferrari's new 7-speed dual clutch transmission are just a few of the technological advancements that help set the 458 apart from the rest of the exotic car crowd. So if you're one of the lucky few that have gotten your hands on a set of keys to a 458, you should know that you're basically driving a race car that was built for the street, but with one missing ingredient, race car sound.
Practically being neighbors with Ferrari certainly has its perks, so Tubi Style was lucky enough to get their hands on a 458 Italia long before many of us even got the chance to lay eyes on one. The result of that early development time is the amazing Tubi mufflers you see above. The first thing you'll notice is that the mufflers are crafted in true Tubi fashion, using only the highest grade polished stainless steel for the mufflers, as well as all mounting points and hangers. The second thing you'll notice is that the Tubi system retains the use of vacuum actuated valves to control the flow of exhaust under different driving conditions. At idle and low speeds, the 458′s exhaust exits only from the center pipe of its unique triple-exit center exhaust. Under acceleration the flappers open up and allow full exhaust flow from all three pipes, the center as well as two sides. And lastly, there's the trademark Tubi exhaust sound that has almost become synonymous with Ferrari. Even though the 458 suffers from a restrictive factory exhaust because of heavy European and US sound regulations, the Tubi system is engineering and designed to let the howl of the 458′s 9,000 rpm redline to be heard by all.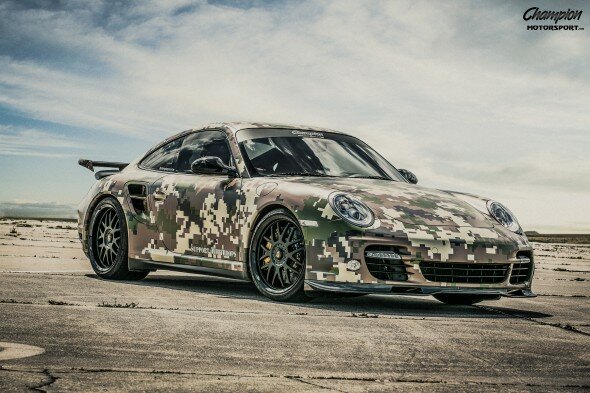 What runs 9′s on stock turbos!?
I'll tell you what runs 9′s on stock turbos….our Champion Motorsport Turbo S project car does!
Although we haven't really been saying much about the continued development of the 997.2 Turbo platform, let's just say the wheels never stopped turning around here, and recently we've made some amazing leaps forward that have allowed us to bump the .2 Turbo platform to new levels that we previously thought were impossible! Particularly…more power…MUCH more power.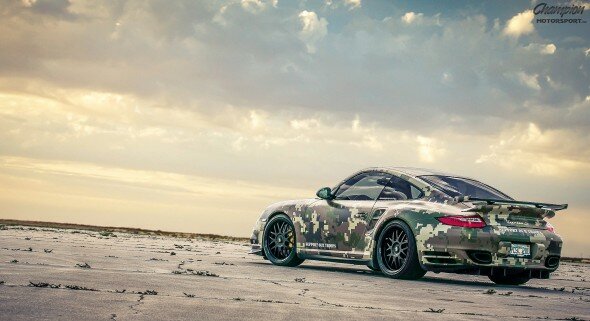 Thanks to the continued support of our tuning partners at GIAC, we have been able to develop a new proprietary software program for the .2 Turbo which delivers well over 600 wheel HP, and nearly 700 lb/ft of TQ….all using stock turbochargers.
So, on to the important stuff. Friday night we took our little beauty to the track, with nothing more then our new CMS/GIAC software, Tubi Race exhaust, Werks1 Y-Pipe & Airbox, Champion Intercoolers, IPD plenum, and a pair of drag radials on the rear wheels. The car also has a full interior. NO weight reduction was done AT ALL (especially not to the driver!!). The results speak for themselves.
This new version of our Champion Motorsport / GIAC software is available immediately from any of our authorized dealers.
At the Laguna Seca Golf Ranch, Monterey California Concorso Italiano once again held the traditional Monterey/Pebble Beach Weekend. Concorso Italiano's unique format featured more than 800 – 1000 vehicles of Italian origin, and its atmosphere is on the vehicles on display, conversations between people who love and appreciate them, and elements of Italian style such as fashion, food, music and art – all of this on the beautiful grounds of the Laguna Seca Golf Ranch. The Ranch was crafted by Robert Trent Jones Senior & Junior and nestled among the oak-studded hillsides of Monterey, providing breathtaking views of gorgeous Central Coast landscapes.
Take everything ever made in Italy, from fashion to Ferraris, sprinkle it with some red wine, slather it in sunshine, and top it with elegance and fun, and you have Concorso Italiano.
Click Here To View Gallery